Be the FIRST to see my book reviews. Sign up for my monthly newsletter.

**Author's Note: All my reviews range from GOOD (3 stars) to GREAT (5 stars). If I do not like a book, I do not finish it, and thus, do not review it.
16-year-old Adelina is a survivor of the blood fever, a disease that killed most of its infected. Some of the survivors (malfettos) were left with strange markings, a few were left with special powers, all are hated.  Adelina is one of them. When she is saved from execution by a group of gifted malfettos called the Dagger Society, she joins them and hopes they can help her learn to control her strange new power of illusion. Perhaps she can even help them with their quest to end the Inquisition genocide of malfettos. But her power stems from a darkness within her, a darkness that grows as her power does, a darkness she likes.
What I liked: the premise was good. No real heroes in the book, just lots of diverse characters who all have their own personal internal struggles, including Adelina (who I suppose would be considered more of an anti-hero).
What I did not like: I never connected with the main character. She was just too dark. Some of her flashback memories showed how mean she was as a kid, especially toward her sister. Yet I still thought I would end up cheering for her (like I did Artemis Fowl, who I also didn't connect with at the beginning of that book, but ended up loving by the end), but I didn't. I just never really liked her. I was also disappointed by the ending. It does set up the next book, but the reader is left not satisfied.
3 out of 5 stars
Great characters and storyline!
Ivan is a silverback (an adult male gorilla) and is nice, easy-going, and friendly. He lives in a shopping mall where he has learned to understand humans, and is content in his simple life watching TV and chatting with the other animals. One day, a baby elephant named Ruby arrives to join the troupe, and everything changes. Ruby awakens memories in Ivan, memories of his past that he had somehow forgotten. And now all Ivan wants is to help Ruby get out of there. Through his art and the support of his friends, he will change their future forever.
What I liked: great characters and story! Ivan is totally endearing, and the other characters are unique and fun. The plotline is great and makes you want to read to the end to witness the warmth and happiness you know will come.
What I didn't like: not much. It was perhaps a tad too long, but the chapters are short and the read is quick.
Great book.
5 out of 5 stars
An okay read, with some fun characters.
The book begins as 11-year-old twins Jason and Julia move from London to Argo Manor, a mysterious mansion on the British coast. After befriending Rick, a local boy, the three friends discover that the previous owner, the wildly eccentric Ulysses Moore, left behind clues to unlock a hidden door, and once opened, it leads the kids into a web of passageways, potential danger, and mind-boggling discoveries.
What I liked: great characters! Each of the three friends is unique and brings an interesting element to the story. The mansion's caretaker is peculiar, but in the most fascinating way (I really want to know his story!). The plot is interesting and the comradery between the kids is lighthearted and fun.
What I didn't like: it ends with a major cliffhanger. The last quarter of the book is when the adventures really begin to pick up, and then it just ends. The reader is left with no sense of closure. There were also a couple of times when it felt like the author was talking down to the reader (over-explaining for the sake of the reader's age).
3.5 out of 5 stars
My review of Nightbooks by J. A. White
After being lured into Apartment 4E by his favorite movie, Night of the Living Dead, Alex realizes he's been tricked and captured by a witch named Natacha, and that the apartment is somehow magical (and evil). Natacha informs Alex that if he wants to live, he must read her one of his scary stories every night. The only other inhabitant, a fellow prisoner named Yazmin, assures Alex there is no way to escape, but he doesn't believe her. Determined to find a way out, he continues to read the witch a story every night while searching for a way out during the day. But soon, he only has one story left.
What I liked: fabulous storyline! An evil witch, a magical apartment, a ticking time bomb—great setting for suspense! And the stories Alex shares with the witch, and the reader, are creepy and fun. It's like a cross between Hansel and Gretel and Scheherazade. Great characters, too.
What I didn't like: not much. It might be a little dark for some younger readers (7 or 8-year-olds) who get scared easily, but if they're good with Goosebumps, then they should be fine.
Great and fun book.
5 out of 5 stars
Fast-paced, but a little dark.
After suffering an asthma attack that nearly kills him, Arthur is saved by a mysterious man in a wheelchair named Mr. Monday that hands him a key —a key that saves his life, a key that puts him in danger. When an army of dog-faced "Fetchers" show up, Arthur knows he must go to the house, the one that only he can see, and unravel the mystery. But, once inside the house, things become much more complicated, and Mr. Monday wants his key back.
What I liked: the novel starts off great! Fast-paced and captivating, the story really gripped me and I wanted nothing more than to keep reading. The author does a great job of creating a completely different world inside the house. Arthur is definitely likable.
What I didn't like: the story became incredibly confusing. Once inside the house, the story became a bit like a dark, Alice in Wonderland dream. Several times, I had to go back and re-read something because I didn't quite understand what Arthur was seeing. Although interesting, I found the story too confusing, and that frustrated me.
Rating: 3 out of 5 stars
My review of Stormbreaker by Anthony Horowitz
When 14-year-old Alex Rider learns his uncle dies in a car accident, he just doesn't buy it. A bit of snooping, and he learns the truth: his uncle was a spy for Britain's secret intelligence agency. And now that same agency wants Alex to go undercover, find his uncle's killer, and discover why his uncle was killed. Easier said than done.
What I liked: fun spy book with lots of action. Great villain -one the reader can have a tad of empathy for at first, but then he really is just evil. Great writing, it's easy to visualize all the different settings and locales in the book. And, did I mention lots of action? So fun!
What I didn't like: sometimes things just happened too fortunately for him. He'd get into a really tight spot, and -stroke of luck- there was a convenient way for him to get out. It is kind of reminiscent of James Bond, so I get it, but it was just a little too much. Also, Alex himself is rather stoic sometimes (14-year-old boys are usually a bit more…animated).
But all-in-all, a fun read, and great start to a series.
4 out of 5 stars
My review of Dog Man by Dav Pilkey
I put off reading this book because it just did not appeal to me. A superhero with the body of a human and the head of a dog? And yet, the books are immensely popular. So I gave it a shot. A few pages in, and I was hooked! The book tells the adventures of Dog Man, the world's most greatest cop. (I won't give away how he becomes Dog Man, because that is a fun part of the story.) I would HIGHLY recommend this book for all 6-8 year old kids (especially boys) who are reluctant readers, and all kids in general. (and adults like me)
What I liked: absolutely everything. The illustrations are bright, colorful, and imaginative. The characters are fun and unique. The stories are positively silly and absolutely entertaining. Plus, there are some "flip-o-rama" pages where the reader gets to flip the page back-and-forth to see the characters do some action. (so fun)
What I didn't like: nothing really. There is a bit of poor grammar, but it makes sense as the story is being "written" by a little kid.
Overall, an absolute delight.
5 out of 5 stars
A cross between Wimpy Kid and Timmy Failure.
I would recommend this book for younger middle-grade readers, 8-10 years old.
Doug just wants to be normal and fit in, but that proves to be a bit of a challenge for him. He lives in a creepy mansion with a graveyard for a backyard. He's bad at jokes, sports, school, and pretty much everything else. His dad makes him eel sandwiches for lunch. Oh, and he's also been crowned king of the mole people. Trying to fit in above ground is hard when you're trying to solve the Giant Worm Problem for your underground mole people.
What I liked: pretty much everything. Great illustrations and fun, unique characters. Lots of quirky adventure and funny situations. Great underlying moral of accepting who you are, even if you're different than everyone else.
What I didn't like: not much. The beginning was a tad slow, but it picked up quickly.
Overall, a really fun, weird read.
5 out of 5 stars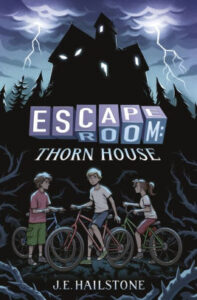 Spooky!
With only a week left until school begins, Luca is sorely disappointed that his Explorer's Club hasn't really had any adventures. That all changes when he receives a strange invitation for a top-secret escape room challenge at midnight at Thorn House, the local house in the middle of the woods that is allegedly haunted. Luca and his two best friends show up, only to discover that this is far from a game. Escaping each room soon becomes a battle for their lives as the three kids hope to discover a way out before the ghouls do them in.
What I liked: it's a great creepy plot. The setting is fabulous and all the rooms they are trapped in have great character. The clues are fun to try to unravel as well. The book is well-written.
What I did not like: two major things. One: the main character, Luca, is kind of a jerk for the first half of the book. He's completely self-absorbed and truly cares only about fulfilling his desire for his Explorer's Club success, to the point that he treats his friends badly and they've started keeping things from him. I almost didn't finish the book because I really didn't like him. Two: the book ends with a total cliffhanger. I understand wanting to leave some unanswered questions so reader will be excited for the next book, but this book ends with absolutely no closure at all. I hate that in a book.
Not a bad read, just a bit frustrating.
3 out of 5 stars
My review of The Wild Robot by Peter Brown.
Cute with lots of underlying themes.
Note: I believe this book is best for the lower-end of middle grade readers, 8-9 years old (maybe even as low as 7), perhaps even a good bridge book between chapter books and middle grade.
Robot Roz wakes up on an uninhabited (well, by humans, anyway) island, with no idea how she got there or what she's supposed to do. As she begins to interact with the animals, she learns important lessons about friendship and what it means to be part of a community. Then, when she adopts an orphaned gosling, she learns the importance of family. Together, Roz and her friends face adventures and dangers, both of nature and of man.
What I liked: Roz is absolutely endearing, in an Iron Giant kind of way. There are many underlying themes, from tolerance to friendship to mother/child relationships to death, great teaching tools for little kids without the in-your-face kind of morals that some books have. Also, the chapters are super short (prepping kids for James Patterson I suppose, LOL) and the illustrations are great making it a great book for reading aloud to smaller kids.
What I did not like: The book felt just a little too long. More than once, I was glad the chapters were so short because I didn't really see a purpose for that snippet of story. But that was only occasionally.
Cute story for younger middle grade readers.
4 out of 5 stars
Fun adventures but mean competitors.
When their Aunt Grace dies, siblings Amy and Dan (along with a number of distant relatives) are faced with a tough decision… accept one million dollars each, or embark on a quest for 39 clues the winner of which will gain the most important treasure in the world and become powerful beyond belief. Dan and Amy accept the challenge, as do several groups of family members. After deciphering the first clue, Amy and Dan race to Paris (along with their au pair) and face a web of dangerous traps and mayhem, thanks to their greedy and ruthless competitors, all who would like nothing more than to get the siblings out of the way for good.
What I liked: great writing (it is Rick Riordan after all). The adventures were fun and the historical facts were very interesting (I loved learning things I didn't know about Benjamin Franklin!).
What I didn't like: I never really connected with the two main characters. They were definitely likable, but I just didn't feel a strong connection. What bothered me more was the absolute evilness of the other family members. There was no ONE antagonist, there were many, and the various groups had no redeeming qualities whatsoever. They were just plain mean.
Still, a fun read.
3.5 out of 5 stars
Mystery and a bit of paranormal fun.
Middle-school math whiz Elizabeth Webster is shocked when the school's star athlete Henry Harrison asks her to tutor him in math. But, when she shows up at his house, she discovers the real reason he wants her there…a ghost is haunting his house and it is calling her name! Soon, Elizabeth and her friends become embroiled in a web of strange family secrets, otherworldly characters, and a courtroom where demons and ghosts are called as witnesses. And, amidst all of this, they must solve a decades-old mystery to help the ghost so she can finally rest in peace.
What I liked: great and unique characters. All of the side characters from Elizabeth's best friend to her mother to the courtroom's judge were entertaining and fun. The mystery was woven well into the story and was not so obvious that the reader knew what happened before the end. The reader gets to go along with Elizabeth as she discovers the truth about her family and her own destiny.
What I did not like: I found the beginning a bit slow. I also am not sold on the narrator (Elizabeth) saying over and over, at the beginning, how if she only knew what was about to happen, she wouldn't have gone, etc. However, the last half of the book was incredibly interesting as the kids begin to actually solve the mystery. But then at the very end, the author threw in a scene that left Elizabeth with a number of questions that I suppose will be answered in the next book, but I found that a bit annoying and unsatisfying for the reader.
3.5 out of 5 stars
Fun treasure hunt!
After getting a letter from an estranged aunt he's never met, 13-year-old Ellsworth Smith decides to go, despite his father's misgivings, and see the homes built by his ancestor John Matthew Smith. Once there, he discovers that only seven of the homes were ever lived in, the other three had treasures that the ancestor had "hidden" to help future generations in time of hardships. Two of the treasures have already been found, and now, as the family has been torn apart by feuds and monetary misfortunes, it's up to Ellsworth to find the last treasure.
What I liked: Ellsworth's character is likable and relatable, and I love the setting. Anderson adds a lot of great details so the reader gets a good feeling as to where they are. I can easily picture the houses of the square. There's also an element of mystery, which, of course, I love. It also has a feel-good ending, stressing the importance of family and working together.
What I didn't like: The beginning of the book is VERY slow; so much so, that I almost put it down. But, I am so very glad I didn't. Once it picked up, it was very interesting.
Rating: 4 out of 5 stars
A cute twist on the traditional Sherlock Holmes story line.
11-year-old John Watson isn't sure what to make of his new home at 221 Baker Street, in Harlem, NYC.  Being a military brat, he's accustomed to moving a lot and has always found it pretty easy to make friends. Then he meets his new neighbor, 9-year-old Shelby Holmes, and his whole life changes. A renowned neighborhood detective, Shelby is asked to solve a crime involving the disappearance of a classmate's show dog, and somehow, John gets pulled into the mystery with her. Utilizing her smarts and his social skills, the two solve the case and along the way, become friends.
What I liked: Great characters…I just love John Watson. Shelby comes across a bit egocentric and bossy, but then, that would be how Sherlock Holmes would most likely have come across as a child as well, so I understand. Her relationship with Watson develops nicely throughout the book, and the mystery was cute, even if not too dramatic. References to the original Sherlock Holmes throughout the book were fun as well.
What I did not like: In trying to maintain the Sherlock story line, the author includes minor characters such as Michael Holmes, Shelby's (also smart) brother, and Detective Lestrade. The only scene with the brother felt so forced it was uncomfortable, and Lestrade came across as not only incompetent, but also completely unnecessary to the story line.
All-in-all, a fun read.
4 out of 5 stars
When their house in the swamp explodes, the seven Problim children have no choice but to move into their grandfather's abandoned home in the city. But when they move in, the neighbors do not seem too happy. Then, rumors of an old feud and a mysterious treasure come to light, and the children realize their grumpy neighbor next door wants nothing more than to have the Problim children removed, and the house all to herself.
What I liked: Interesting story line. I enjoyed the plot and wondered throughout the book about the feud and the treasure. Great interactions with the neighbors, both adults and children. Some sweet, heartwarming moments.
What I didn't like: too many characters. I never felt like I connected with any of the characters, and some of them were a bit two-dimensional. The ending was a disappointment simply because nothing was resolved. I understand this is the first book of a series, but the reader still needs some kind of closure.
The writing was solid and the characters unique, but I just didn't get into the book like I wanted to.
3.5 out of 5 stars
Entertaining and a little disturbing (in a good way).
A Tale Dark & Grimm is sort of a throw back to old-school fairy tales, the ones that were meant to teach kids lessons by shocking them with horror. The novel follows the adventures of Hansel and Gretel as they embark on an incredible journey. Each chapter is a different story featuring either Hansel or Gretel or both. The tales are indeed dark and may possibly be scary for some younger kids (8 or 9), but I found them incredibly entertaining and definitely suitable for upper middle grade.
What I liked: the originality! I've never read such interesting takes on old fairy tales. I love how the author weaves the main characters through a vast array of dangerous and unique experiences. I also loved how both the characters grow throughout the stories, learning lessons as they do. The narrator interruptions were, for the most part, very witty.
What I didn't like: some of the narrator interruptions were just too long. Most of them were fine (and funny), but some of them went on and on, and took me out of the story. Occasionally, the interruptions were over a page long. Too much in my opinion.
But overall, a very interesting read.
4.5 out of 5 stars
My review of The World's Greatest Detective by Caroline Carlson
Mystery fans will be pleased, indeed!
11-year-old Toby Montrose has been bounced around from family member to family member following the disappearance of his parents. Finally, he ends up in the care of his Uncle Gabriel, a detective on the famed street, Detective's Row. When the World's Greatest Detective, Hugh Abernathy, announces a contest to choose the next World's Greatest Detective, Toby hops on the chance in hopes of earning the prize money and helping out his uncle. But, when Hugh Abernathy unexpectedly turns up dead, it's up to Toby and his new friend Ivy to solve the case!
What I liked: such a fun detective story! It's like a cross between a Sherlock Holmes and an Agatha Christie novel, but brought down to a kid's level. The two main characters are fun and unique, and the story will keep you guessing.
What I didn't like: not much. The opening scene seemed a bit too long, although it did help establish the main character and his desperate need for getting the money to help his uncle. Other than that, the story itself was delightful and fun to follow along with.
I highly recommend to anyone who loves a good mystery.
5 out of 5 stars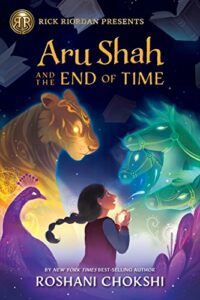 Aru Shah is a 12-year-old girl with a tendency to tell elaborate lies in an effort to fit in at her new, upper-class school, and conceal the fact that she and her mom live at the Museum of Ancient Indian Art and Culture, where her mom works. But when three of her classmates show up at her home, Aru feels compelled to do something impressive. So, she lights the cursed Lamp of Bharata and unwittingly releases the Sleeper, whose job it is to awaken the God of Destruction. Now it's up to her to save the world.
What I liked: I love mythology and this book did not disappoint. I enjoyed reading about Hindu myths (so many books weave in Greek mythology, it's nice to read about different deities). The side characters were fun and unique, and the storyline was fun and adventurous.
What I did not like: the main character. I just never connected to her like I normally do with main characters. For the first fifty pages or so, I actually didn't like her, but I thought I would grow to like and connect with her as I did with Artemis Fowl (who I also didn't like at the beginning of the first book), but it just didn't happen for me.
Still, a good read for those who enjoy mythology.
4 out of 5 stars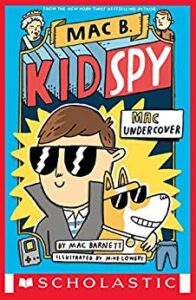 Okay, this book is a little younger than I normally review as it is a chapter book, but its premise was so cute I just had to read it (and I'm so very glad I did!).
Mac B is an author, but before that he was a kid, and when he was a kid, he was a spy. Mac B is just an average kid from California who gets a call from the Queen of England who asks him to do a favor–retrieve the crown jewels that were stolen. Mac B is not sure why the Queen picks him, but he agrees, and then a plane ticket shows up at his door and he is off on the adventure of a lifetime.
What I liked: absolutely everything. The storyline is witty and silly and fabulous. I found myself laughing out loud quite a few times. The characters are charming, and the illustrations are fantastically adorable. And, of course, I love that there are historical references throughout the book.
What I didn't like: absolutely nothing. I read it in one sitting (it is a chapter book after all), and I enjoyed every single page. Kudos to the author and illustrator.
I would highly recommend this for chapter readers (and anyone else who enjoys silly, witty stories).
5 out of 5 stars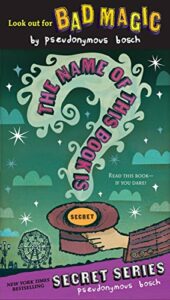 This book has a narrator telling the story, but since no-one should know what happens or to whom, the narrator uses fake names and places. So, "Cass" and "Max-Ernest" are two eleven-year-olds who become interested in a box labeled "The Symphony of Smells" left behind by a recently deceased magician. While investigating the magician's house, the two kids stumble upon the magician's notebook and a very intriguing mystery. Throw in some bad guys and the disappearance of a classmate, and the two kids have quite the adventure on their hands.
What I liked: the two main characters are unique and quirky; the mystery is quite intriguing; and, the plot has many unexpected twists. The story is also well-written.
What I did not like: the narrator. He constantly says he should not tell the reader this, or he can't say what really happened. I understand this is the gimmick, but after about the first fifty pages, I was over it. I just wanted to read the story (which was interesting). There's even an entire chapter toward the middle of the book where the narrator says he decided to end the book there and goes on a tangent about chocolate, and ends the chapter with why he must keep writing. I understand the narrator's interruptions might be interesting to some (there are five books in the series), but it was just not my cup of tea.
3.5 out of 5 stars
12-year-old Warren is the 13th Warren to own the magnificent Warren Hotel. Unfortunately, the hotel has fallen into shambles since lazy Uncle Rupert and his new (evil) wife, Aunt Anaconda, had stepped in to run the hotel after Warren's dad died seven years ago. When Anaconda's two creepy sisters suddenly show up, Warren realizes the three of them will stop at nothing to find the hotel's hidden treasure, the All-Seeing Eye. Determined to find the treasure before his aunt, Warren befriends a strange girl named Petula, and begins following the clues only to discover that the hotel, and his new friend, have more secrets and mysteries than he could ever have imagined.
What I liked: just about everything! The illustrations are bizarre and intriguing; the characters are unique and enjoyable; and the plot is interesting and holds your attention.
What I did not like: not much. The beginning is a bit slow, but the story picks up quickly and becomes interesting.
Definitely worth a read.
5 out of 5 stars.
Olga is a girl who loves, I mean LOVES animals. People, not so much. When she discovers a weird creature that no one has ever seen before, she becomes absolutely fascinated by it. Naming the creature "meh," Olga decides to use scientific observation to learn and deduce everything she can about it. As she sets out on the road to discovery, she meets a number of interesting people, some that she actually likes.
What I liked: amazing illustrations! The pictures are cute and silly and add so much character to the story. Olga also grows as a person as the story progresses. Even her relationship with the neighbors she didn't like evolves throughout the book. I also like that it shows the scientific method.
What I didn't like: the story may be cute and silly, but it did feel a bit long. I know the illustrations take up a lot of room, but I felt the story could've been a little tighter.
All-in-all, a cute read.
4 out of 5 stars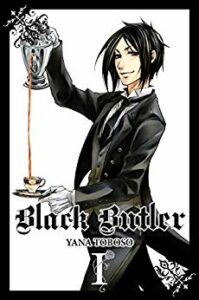 I have a confession. I watched the anime first, and then decided to read the manga (so I was a little biased going in). Black Butler is about a 12-year-old boy (later 13) named Ciel Phantomhive whose parents are murdered and he decides to make a contract with a demon to avenge his parents' death. The contract stipulates that the demon (Sebastian) will perform any command given to him by his master (Ciel) while working as the boy's butler, and in return, once Ciel's parents have been avenged, Sebastian gets to devour Ciel's soul. Complicating things is the fact that Ciel is also an Earl, and as such, inherited his father's obligation of being Queen Victoria's Guard Dog―the one the queen calls on to solve more… delicate problems (like Jack the Ripper).
What I liked: the two main characters are amazing. Ciel is such a complex character, and Sebastian makes you want your own demon butler. The well-structured storylines are intricate and full of small details, essential to a good manga.
What I did not like: not much. Although, it does end on a cliffhanger, which I am not a super fan of, but I know it's typical in series manga.
Warning: this is not for a young middle grade audience. I would put it in the young adult category (maybe older middle grade).
5 out of 5 stars
My review of Artemis Fowl by Eoin Colfer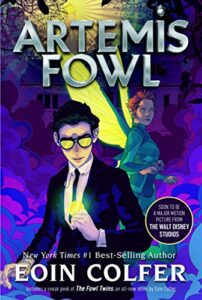 Twelve-year-old Artemis Fowl is a criminal mastermind  descended from a family of wealthy criminal masterminds.  After the family fortune is lost, his father mysteriously disappears, believed dead, and   his mother goes mad from grief. Artemis decides to get the family fortune back in the most unusual way―by kidnapping a fairy and holding her for ransom. But as it turns out, Artemis may have underestimated the power of the fairies, and the lengths they would go to hold on to their gold. He also may not have anticipated the cunningness, and intrigue,  of his captive fairy.
What I liked: great story! So unusual and compelling. The characters are so well written and diverse, everything from goblins to centaurs, and they each have their own unique personalities and attributes. The plot is outlandish, but so interesting and different.
What I didn't like: the main character comes off a bit stoic, especially at first. True, he is an anti-hero, but he was almost too unrelatable at first. Still, his character improves as the book progresses, and by the end, the reader wants to know what happens to him (and the other characters) in the next book.
5 out of 5 stars
After accepting a free ride ticket from a mysterious man, Ted and his sister Kat give the ticket to their cousin Salim to ride the London Eye. The brother and sister watch carefully as their cousin boards the Ferris wheel, they watch his pod go around, then they watch his pod open and everyone disembark. Everyone except Salim. He has literally disappeared. When the police find no evidence of the boy, it's up to Ted, whose brain works slightly differently than most, and his older sister to follow the clues and find their cousin before it's too late.
What I liked: LOVE the characters. The main character Ted has autism, and it's this unique trait that helps him spot the clues that the police miss. Since the story is told in first person, from Ted's point of view, the author really gives the reader a great insight into the mind of an autistic child. And, along those lines, Ted's sister Kat is a great representation of what having a sibling with autism is like.
What I didn't like: not much. There were a couple scenes that I thought were a bit long, but the story is quite enthralling, so I'll let that slide.
Overall, a great read and a fun mystery!
5 out of 5 stars
The Penderwicks is a light read for girls ages 8-10 (boys would probably be bored with it). It revolves around the four Penderwick sisters and their adventures at a rented summer home named Arundel. Heavily character driven, the book is charming and has an old-fashioned feel to it. You get to know the personalities of each of the girls and appreciate the relationship they have with each other.
What I liked: The book is well-written, innocent, and enchanting. For young girls, especially those with sisters, I could see this being a fun read.
What I didn't like: the lack of actual escapades. The kids experience adventures that are realistic and that could indeed happen at a summer cottage on vacation, but (and this is a total personal preference) I wanted to see more adventures, ones that are bigger than life. So, even though it is charming, parts of it seemed to drag on and I found myself flipping pages to see if something more exciting was coming up.
Rating: 4 out of 5 stars
Greg Belmont is a normal 13-year-old kid, and he's okay with that. His BFF Edwin is the most popular kid in school (and the richest), and the two share an appreciation for something that most middle schoolers don't get―chess. Then one day, everything changes. After his dad is kidnapped, Greg is led underground where he learns he is not quite as ordinary as he thought. He's a dwarf. Oh, and there's an entire world of dwarves living under Chicago. Oh, and now that dwarven magic is returning, a war is brewing between them and their long-time enemies, the elves. And it's up to Greg to stop it.
What I liked: the two main characters are fabulous, and their friendship evolves throughout the story. There's also quite a bit of action and humor which keep the story moving at a good pace.
What I did not like: I did not get a good sense of what this underground world of dwarves was like. World-building is so important in fantasy and I just couldn't visualize the new world Greg was thrown into.
Still, the plot was solid and interesting and the characters were fun.
4 out of 5 stars
Muhyo and Roji are a team that investigate supernatural beings. Each chapter of the graphic novel brings the duo a different ghost to investigate, and then "help" to cross over to the other side (either up OR down). Muhyo is the "expert" in the laws of magic (he does have a book) and Roji is more of the people person. Together, they help people deal with ghost problems.
What I liked: two great characters! The two main characters are so complex and different, and evolve as the book goes on. Each chapter is a different story and the ghosts are as diverse as the problems they create. I also really loved reading the book backwards (for us), it made the experience all the more fun!
What I did not like: things moved almost too quickly. Because each chapter is a different story, the story arc is very short and sometimes I found it a little too abrupt. But, it is understandable as the story has to fit into a small number of pages.
All in all, a fun (albeit different) read.
4.5 out of 5 stars
Nicola Berry is just an average kid until the day a man from another planet comes to Earth to seek out the "Earthling Ambassador" who will travel back to his planet and hopefully convince Princess Petronella not to turn Earth into a garbage dump. When Nicola is chosen, she is excited and nervous about her mission. But, when it becomes apparent that the princess has no intention of deviating from her plan, Nicola decides to put together her own crew of earthlings to save the Earth before it becomes a giant pile of garbage!
What I liked: great characters! Each of the characters is unique and believable, from main character Nicola to her arch-nemesis Greta to her new alien friend Shimlara. Even the princess has her own quirkiness. The writing style is fun and easy to read, and keeps you wanting to know what is going to happen next!
What I did not like: The Prologue. I usually don't mind prologues, but I felt this one was unnecessary and a huge distraction. The story should begin with Nicola as it does in chapter 1. Other than that, the story was a quick, delightful read.
5 out of 5 stars
After making his father Zeus super mad, Apollo gets punished by being sent down to Earth as a human teenage boy. And not a tough, hot teenage boy, but an average, run-of-the-mill teenage boy with―horror of horrors!―acne. Now the arrogant former god must figure out how to win back his father's favor while fending off the numerous enemies he made as a god, enemies that are all too happy to see the god in his puny human form. Realizing, much to his disdain, that he needs help, Apollo sets off for the one place he knows he has friends and family―Camp Half Blood.
What I liked: Apollo is definitely my favorite of Riordan's gods. His vanity and egotism, even now as a puny human, is hilarious and caused me to laugh out loud multiple times. I loved the return of some of the previous characters (like Percy Jackson) from other series, as well as the new characters introduced in this one.
What I didn't like: not much. It was a bit long, but I never felt like I wanted the book to end.
A fun romp through mythology and history.
5 out of 5 stars
My review of SCAT by Carl Hiaasen
When the scariest teacher at the Truman School goes missing after the field trip to Black Vine Swamp gets cut short due to a forest fire, Nick and Marta get the feeling that something is terribly wrong. But when the class delinquent "Smoke" is blamed for the fire, the two kids suspect he has something to do with the teacher's mysterious disappearance as well. Complicating their investigation is the unexpected return of Nick's father from Iraq with a life-altering injury—a severed right arm. As Nick tries to deal with the situation at home, he also must deal with the uneasy feeling that Smoke isn't responsible and that something else, something much darker, is going on.
What I liked: Great characters, great plot, great tension. I really got pulled into the story, and the more I read, the more I wanted to know what was going to happen. Lots of interesting characters, each with their own quirks, and because the author puts you in each of their POVs, you get to know the characters pretty well.
What I did not like: It was just too long. Some of the scenes felt completely unnecessary, and I was like…why was this scene even in here? There were a lot of character POV shifts which at first felt confusing, but after a while, you pick up on the rhythm.
Overall, an interesting read with an interesting mystery.
4.5 out of 5 stars
When Billy arrives at the cabin his mom rented from the mysterious Dr. Libris for the summer, he's disappointed. No TV, no video games, no technology of any kind except for the creepy video cameras in every room. Then, he discovers the library, and more importantly, Dr. Libris private bookcase. As Billy begins reading the books, he starts hearing strange noises from the island in the middle of the lake. Upon investigating the island, he discovers that all the characters from the various books he's read have come to life and are interacting with each other and with him on the island! Hercules, Robin Hood, Tom Sawyer, and even Pollyanna all come together for a wild adventure.
What I liked: So creative! I love the various characters interacting with each other. Some of the scenes are hilarious. This is such an inventive way to intersect multiple popular fiction characters. Billy is also very relatable, unsure of himself and unsure of his parents upcoming divorce.
What I didn't like: The ending is very rushed, like the author had to hurry up and finish the story. Also, Dr. Libris makes a brief appearance at the end, and is such a terrible person that I wish he had been left out. The ending is okay, just a little disappointing.
Still, a rather enjoyable read.
4 out of 5 stars
Jack Sullivan and his three best friends may be the last kids left on Earth. But, there are the zombies. Oh, and the monsters. When Jack realizes that the zombies are disappearing, he decides to get to the bottom of it. He and his friends embark on a quest and discover a plethora of strange things on the way, including a giant wormungulous, that has apparently decided to live at the nearby mall, a popular pizza parlor that has now become the new hotspot hangout for monsters, and a new rumor, one that just happens to mention that the destroyer of worlds would like to come to Earth. It's up to Jack and his friends to figure out the mystery of the disappearing zombies and save the earth from being destroyed.
What I liked: pretty much everything. The illustrations are actually part of the story. For example, you're reading a passage and the picture is there in place of a paragraph, so you have to read the illustration to understand what happens next. The main character is great, flaws and all. And, of course, the story has zombies AND monsters, so how could it not be amazing?
What I did not like: some of the other characters were just a tad bit flat, especially June. But, since the story is told in first person through Jack's voice, it's fine.
A fast and enjoyable read.
5 out of 5 stars
If you are a parent/adult who loves regency/historical era books, this YA is for you. Mary Quinn is a poor child miscreant, rescued from the gallows and taken to an upscale academy for girls, where she will learn to become a lady. At seventeen, Mary learns the school is only a cover for an organization known as the Agency. She is recruited by the Agency to become a spy and her first assignment, a lady's companion at a wealthy merchant's home, becomes far more dangerous than anyone expected, full of dark secrets, international intrigue, and even murder. There is, of course, a rather handsome rascal to reckon with as well. In the craziness of her assignment, Mary also learns a dark secret from her own past—one, that if exposed, could jeopardize her position in the Agency.
What I liked: The setting is amazing. Lee does a tremendous job of putting us in 19th century smelly London. The characters are all believable and wonderfully flawed. The story flows smoothly and keeps you turning page after page.
What I did not like: Not much. Perhaps my one critique would be that there was not enough information about the Agency. But, as this is only the first book, I expect the rest in the series give more insight.
A delightful read.
5 out of 5 stars
My review of The Giver by Lois Lowry
The world Jonas lives in is perfect. There is no snow, sleet, hurricanes, or tornadoes. There is no hatred, no bigotry, no jealousy. Spouses are assigned by compatibility, and the Committee of Elders observes every child throughout their childhood and assigns them their career at age 12. There are no choices to make, no mistakes to be made. There is only…sameness. And, there is no love. But, no one notices. Only one person holds the memories, all memories—war, famine, love, joy. He is the Giver.
At the Ceremony, Jonas learns of his destiny. He is chosen to be the new Receiver, the one who will receive, and be responsible for, all the memories. But, as Jonas begins to experience humanities past, he begins to question if sameness is truly perfect, and whether there could be a way to change it.
What I liked: The world Lowry creates is brilliant. Every aspect of life is covered by this "Sameness" community, and the reader can easily see how humanity would've chosen this life. Such a great moral of celebrating diversity, and how a world of people who are all the same is far from idyllic. The two main characters are so well-developed, and the others are so simple (perfect for a world of sameness).
What I didn't like: The ending. The reader has no idea what happens to the community. Jonas will be okay, we think (not positive). But, the very last line was so terrible, it left a frustrated feeling in my heart. I put the book down, disappointed. Which is a shame, because I really loved the book up to that point. If she had just left out that last line, I would've been happy. (ps…the movie addresses this issue and is the only part of the movie that I actually liked)
Still, I won't crush the book because of one lousy line.
4.5 out of 5 stars
Eleven-year-old Ellie was used to her life. She had the same best friend since she was little, and she and her mom had a comfortable routine. But, all that changed. Her best friend joined the volleyball team and her grandfather moved in. Watching her best friend slip away was hard, but dealing with her grandfather became the real challenge. Why? Because he was now a fourteen-year-old boy. As a scientist, he invented a formula that would reverse the aging process and make a person young again. He found a way to change the world, no more aging, no more pain. But, does the world need changing? Ellie learns a great deal as she tries to help her grandfather break into his lab to retrieve the formula, the biggest lesson being that things change, and we should enjoy life as we go.
What I liked: great lessons throughout the book, and the main character truly grows as a person. Although the book is made for kids, I think adults would learn a few things from it as well. The grandfather character is fantastic! Exactly what you'd expect from an old man stuck in the body of a young kid. Hilarious.
What I didn't like: the first and last third of the book were wonderful, but the middle third was a bit slow. I had to force myself to get through it.
Still, a good read and worth your time.
4.5 out of 5 stars
Timmy Failure is the founder, president, and CEO of the best detective agency in town, probably the nation (at least that what he says). Timmy is self-confident and clearly the sharpest kid at school, even if no one else sees that. This book is his documentation of the cases he solves. The author, Stephan Pastis, (also the creator of Pearls Before Swine), does an incredible job of combing witty humor with clever drawings. If taken seriously, this book could be viewed as depressing, but, if taken in the manner it was intended, humor, the book is hilarious.
What I liked: the humor is fantastic. There were many times when I (literally) laughed out loud, and the drawings were so on point with the humor. The main character, Timmy, is unique and eccentric, and the mother is fabulous. There are many jokes that, while funny for kids, are even funnier for adults. This would be a great book to read with your child.
What I didn't like: not much. My only criticism, and it's not a big one, is that the book seemed a bit long. Although, if you took out the drawings, it'd be fairly short, it still felt like it dragged a bit in the middle. Not enough to put it down, though.
5 out of 5 stars
Jack Creedle, and the town of Vern Hollow, have been invaded by aliens. Well, not invaded per se, more like under the watchful eyes of creepy, giant spider aliens who are after Uncle Bud's invention—a refrigerator-looking machine that actually can create holes in space and time. But, when Jack, Uncle Bud, Isadora Shumway and her highly-respected scientist mother are kidnapped by the spider aliens, things really get crazy.
What I liked: GREAT characters! All the main characters are different with their own individual quirks and attitudes. The plot is solid and interesting enough (who doesn't love a group of hapless earthlings who have to save the Earth from alien invaders?).
What I didn't like: Teague writes the story from many points of view, and each time we shift from one to another, there's a scene break. Sometimes there's two scene breaks on one page. It got tiresome by chapter five. I appreciate trying to write the story from multiple points of view, but there are better ways to accomplish that. It was also unnecessarily long. 376 pages that could easily have been told in 250.
An okay read, but nothing spectacular.
3.5 out of 5 stars
What a fun read! The book is about 12 kids that get to spend the night in a super cool new library designed by a famous game-maker. Once inside, they are invited to play a game where they are challenged to "escape" from the library and receive a prize. The catch? They only have 24 hours to do it, and the library is, well, interactive…in a "Night at the Museum" kind of way.
What I liked: The characters are believable. All kids (and adults) will relate to the personality traits and complicated relationships experienced by the characters. I also loved the clues the kids had to figure out in order to solve the puzzles…totally made me wish I was in that library with them.
What I didn't like: My only real criticism is that a few of the characters fell a little flat (some could've used a little more character development). I found myself flipping to get past a few pages because of the characters. But, the main character is great!
All-in-all, a fun book
Rating: 4.5 out of 5 stars
Set in 19th-century British Mars, Secrets of the Dragon Tomb has a combination steampunk and sci-fi feel. Edward Sullivan is a 12-year-old who has always dreamed of becoming a spy. One day, his silly cousin Freddie comes to visit and everything changes, and not for the better. His parents are kidnapped by an evil archaeologist and Martian henchmen, and it's up to Edward, his two sisters, and silly cousin Freddie to save the day. As Edward embarks on a crazy and dangerous trek to save his parents, he'll learn that people, including his own family, are not always as they seem, and being a spy is not exactly what he thought it would be.
What I liked: I absolutely LOVED the characters. Each was completely unique and fully developed. The book was non-stop action and adventure, with crazy situations and fabulous locales.
What I didn't like: not much. There were a couple times where I thought the situation went on a little long, but then something would happen that pulled me right back into the story.
I would definitely recommend this book.
5 out of 5 stars
My review of Spy School by Stuart Gibbs
The storyline is really fun. An average 12-year-old boy is selected to go to Spy School, which is pretty cool. And, like all schools, this one has all the great characters you'd expect to meet, bullies and all. But, when his life is suddenly placed in danger, things get crazy and all kinds of drama and adventures unfold.
What I liked: Great story line! The characters are intriguing and realistic, especially the main character, who thinks it'd be really cool to be a spy and get the girl, but finds out pretty fast that it comes with a lot of danger as well. And, anytime you have an ordinary kid thrown into extraordinary situations you have a great plot.
What I did not like: This novel would probably get a much higher rating, but one thing really bothered me about the book…it has curse words. I wouldn't mind as much if they were used in context of heightened emotion (ie–he gets super mad and a curse word slips out), but they are thrown in so casually that they took me by surprise each time, enough to pull me out of the story, and that's bad. The author could've easily told the story without them. That's fine for YA, but not for middle grade.
Rating: 3 out of 5 stars
I recently re-read this book, and thought it would be a good idea to review it. Most people have heard of the Percy Jackson series, but may not be familiar with the Kane Chronicles.
The Red Pyramid was an interesting story, introducing the reader to the world of Egyptian gods. Because most people, myself included, grew up learning about the Greek/Roman gods, it was interesting to learn about a completely different set of gods. It follows the story of an estranged, recently reunited, brother and sister who (like Percy Jackson) encounter a strange world of Gods and how they affect the human world.
What I liked: I enjoyed the first person accounts by each of the two main characters, Sadie and Carter. I felt that gave us a deeper understanding of each character. I also like the sister/brother dynamic. The two kids are pretty much strangers at the beginning of the book, having not spent much time with each other growing up and both jealous of each others' upbringing. As the book progresses, they learn things about the other that not only brings them closer, but gives them a sense of understanding as to why they are the way they are (and that maybe their life wasn't as great as each one thought).
What I didn't like: The names of the gods and their roles did get confusing. It was hard to keep track of which god was son/brother (or whatever) to which god. I understand their roles changed throughout the history of Egypt, but it did get confusing trying to keep them straight. The author did a great job of trying to make the connections clear, but it still did get a bit overwhelming.
Overall, this was a great book, with interesting characters and exciting adventures. I would highly recommend it for anyone interested in mythology or for kids who love a great adventure.
Rating: 5 out of 5 stars
After getting a letter from an estranged aunt he's never met, 13-year-old Ellsworth Smith decides to go, despite his father's misgivings, and see the homes built by his ancestor John Matthew Smith. Once there, he discovers that only seven of the homes were ever lived in, the other three had treasures that the ancestor had "hidden" to help future generations in time of hardships. Two of the treasures have already been found, and now, as the family has been torn apart by feuds and money problems, it's up to Ellsworth to find the last treasure.
What I liked: Ellsworth's character is likable and totally relatable. I absolutely loved the setting and could easily picture the houses of the square. There's also an element of mystery, which, of course, I love. And, the ending is also a feel-good, stressing the importance of family and working together.
What I didn't like: The book took a while to get going; you've got to struggle to get through the beginning. But, once you do, the story picks up and becomes really interesting. So, stick it out, it is worth it.
Rating: 4 out of 5 stars
Moses LoBeau (aka Mo) is a spunky 11-year-old girl who loves an adventure. But, when robbery, murder, and kidnapping arrive at her small town of Tupelo Landing, Mo and her best friend, Dale, decide to form a detective agency and solve the crimes, much to the chagrin of recently arrived Detective Starr.
What I liked: lots of great characters. Because the story takes place in a small town, all the characters (except the recently arrived detective) all know each other very well (maybe too well) and their interactions are fun and perfect. The main character is a true spitfire and the kind of girl you'd want as a friend if you were 11. It's a mystery, which I love, and gets even more exciting as you near the end.
What I didn't like: It's a slow beginning. Very slow. Even though there's a murder pretty close to the beginning of the book, it takes a while for the action to pick up. I found myself dragging to read the first half of the book. But, once I hit the second half, I had a hard time putting it down. Very exciting.
Overall, a good book.
4 out of 5 stars
Every nine years for nine days a secret doorway opens allowing humans entry to a magical island where humans, ogres, giants, and elves live together in harmony. Nine years ago, just before the portal closed, the island's young prince was stolen. Anxiously, the queen and king have waited for the doorway to reopen. Now, as the ninth year approaches, the royals prepare a ragtag group of rescuers to find the prince and return him to the island. Together, a wizard, an ogre, a fey, and a young hag befriend a kindly kitchen boy names Ben (of unknown parentage…hmmm) as they attempt to lure the rich and insufferable prince (are we sure that's the prince?) back to the island.
What I liked: the first few chapters feel a lot like the first Harry Potter book, although written years before (maybe J.K. Rowling got her inspiration here). The characters are so much fun and eccentric, and the island itself made me want to try and find it. It's a fun, fast-paced story with a charming, feel-good energy.
What I didn't like: not a whole lot to not like. My one critique would be that there was no real villain. Mrs. Trottle and her obnoxious son are terrible people, to be sure. But, there was no real sense of danger. But, that's not necessarily a bad thing. It was a bit predictable, but again, not a bad thing. Overall, super cute.
4.5 out of 5 stars
My review of Loki's Wolves by K. L. Armstrong and Melissa Marr
I love mythology, so I was excited to read this. Most of the people in the small town of Blackwell, South Dakota, are descendants of the long-since dead Norse gods, Thor and Loki. With Ragnarok coming (aka the end of the world), the champions must fight in place of the gods. Of course, thirteen-year-old Matt Thorsen never thought it would be him. He screws everything up! Now he must put together the team of champions who will fight to prevent the end of the world.
What I liked: Great story line. I mean, you can't go wrong with unlikely kids who must take on the world's greatest monsters to save the world from destruction. Great characters. Matt, Fen, and Laurie are a great team, even if they have a hard time trusting each other. I also liked that each chapter was through the eyes of one of the three main characters, so you get to know each of them well.
What I didn't like: It was a little slow at first, but not for long. And, I think it did need some explaining before delving into the action.
I thoroughly enjoyed the book and look forward to reading the rest of the series.
5 out of 5 stars
My review of Liar & Spy by Rebecca Stead
12-year-old Georges (the s is silent) moves into a new apartment building and sees a sign for a "spy club meeting." It is there where Georges meets Safer, the self-appointed spy, and the adventure begins. They start staking-out the mysterious Mr. X who dresses all in black and carries suitcases (full of what?) out of his apartment. As the stake-outs grow more intense, Georges starts to question Safer's intentions and questionable methods. This is a great book about friendship and confronting your fears.
What I liked: the characters are fabulous. The main character Georges is so believable as a 12-year-old making a new friend. I liked being in his head and seeing all the characters through his eyes. The two families are also great. Each character is so completely different and interesting, it made me want to meet them in person.
What I didn't like: the first half of the book is so slow. It was a struggle for me to plow through the beginning, but then, once it picked up, it was interesting (and the ending was great). But, the struggle was real. I almost didn't finish it, and that is bad.
3.5 out of 5 stars

14-year-old Sophronia would much rather climb up things and take stuff apart than curtsy and sip tea. Once her mother decides to send her to finishing school, Sophronia thinks her life is destined for boredom. She is wrong. Mademoiselle Geraldine's Finishing Academy for Young Ladies, located on a floating airship, does indeed teach how to be a proper young lady, along with how to be a proper assassin and a proper spy. When a missing prototype becomes the object of thieves, Sophronia decides she must find the prototype before they do, all while dealing with typical teen problems.
What I liked: it's a Victorian paranormal steampunk novel. Seriously. It has werewolves and vampires and tea and crumpets, all set in a steampunk Victorian background. The main character is a strong, female lead who knows how to use her mind as well as her skills. The steampunk elements are fun, and although the paranormal elements are few and far between, it shows how interesting it would be to have a vampire as a teacher. It is light-hearted and fun, and a bit silly sometimes.
What I didn't like: the language feels a bit dull. Because the author wants to remain true to the era, she writes in an old Victorian manner, which can drag on sometimes. Aside from Sophronia, none of the other main characters have any real personality and are pretty flat. The plot is a little thin, and at times, I'd forget what it is (a few times, I found myself skipping ahead because it was taking too long to get there). Luckily, Sophronia's quirkiness kept the story itself moving.
3.5 out of 5 stars
Magnus Chase has been a troubled kid since his mother's death, living alone on the streets and trying to keep out of conflict with the police. Then, one day, everything changes. He learns he is the son of a Norse god. Oh, and all the Viking myths are true. Unfortunately, so is Ragnarok (aka Doomsday) and he, Magnus Chase, is the only one who can prevent it.
What I liked: great main character. Magnus is sarcastic (something I love) and snarky. All the characters, good and bad, are unique. I love Riordan's writing style (he is my favorite author) and I loved learning about Norse mythology, something I knew very little about. As always, I love that his main characters are from a variety of different backgrounds, and this book is no different (from a Middle-Eastern girl to a mute elf that uses sign language). Fabulous.
What I did not like: the book was just too long. The writing was great, but there were way too many action scenes. It was like watching an action movie that was more action than character development. By around page 300, I was ready for the final battle/showdown, but I still had 200 pages left to read. I understand that there were many characters to introduce, but fully developing fewer characters would've been more enjoyable and allowed the story to be less choppy.
Still, I did enjoy the book.
Rating: 4 out of 5 stars
Harry Potter and the Cursed Child is a stage play. If you are expecting it to read like a book, then you need to readjust your thinking. The play tells the story of Harry Potter (as an adult) and his youngest son, Albus. While Harry is dealing with problems at his job at the Ministry of Magic, Albus is struggling with his first year at Hogwarts, and the pressure of a family legacy.
What I liked: the characters are all fabulous. The originals (Harry, Hermione, and Ron) are adults now and act accordingly, not like they think they're still teenagers. They behave as real adults would. The new characters of Albus and Scorpius are interesting and unique, and you find yourself rooting for their friendship. I also loved the time-travel element. So much fun. The father/son tension is also endearing. You feel bad for both of them.
What I didn't like: I missed some of the old characters. I know that it's unrealistic for a stage play to have so many characters, but I was left wondering what happened to some of the people (like why is Ron running the Joke Shop and not George?) The beginning is a little slow, it took me a while to get into it. But, once I did, I really enjoyed it. It is a fast read.
4 out of 5 stars
Strange title. Strange book. In The Cabinet of Earths, 13-year-old timid Maya has moved to Paris (something she had no desire to do) and has a growing suspicion that her mother's cancer is returning. But soon, she begins to notice strange things…the salamander door handle that moves, but only she sees it; a handsome purple-eyed man who seems too interested in Maya's family; and a strange, magical cabinet that wants Maya as its keeper. When her little brother's life becomes endangered, Maya becomes a powerhouse and challenges the forces of evil.
What I liked: Great characters! Maya is believable and her character grows throughout the story, and the relationship with her brother is sweet. All her relatives in France are so strange, and completely fascinating (I mean, who has a purple-eyed cousin that hasn't aged in 100 years?). The plot is bizarre and different, and very, very interesting.
What I didn't like: parts of the book move a bit slow. Characters are introduced (like the Dolphin), a big deal is made about them, and then they just sort of disappear. I thought that Paris would play more into the book since the author made it a point to move the characters there, but very few references to Paris are made and the story really could've taken place anywhere. But, all of these are minor. I still enjoyed the book.
4 out of 5 stars
My review of Doll Bones by Holly Black

Doll Bones tells the story of Zach, Poppy, and Alice, three kids who love playing make-believe adventures with their dolls. When the Great Queen, aka a creepy bone-china doll locked in a cabinet in Poppy's house, begins haunting Poppy's dreams for real, the trio decides to take the doll (and her ghost) to her burial site and lay her doll bones to rest.
What I liked: Great coming-of-age story. The three kids are relatable and their friendship, including the drama, is totally believable. It's a bit scary at times, but those scenes are well-written.
What I did not like: Beginning is a bit slow, but it does pick up. The characters are each a bit selfish, and I found myself sometimes becoming annoyed with them (but I guess that is real life). But, what I did not like at all, and the reason this gets a 3 star rating, is that the kids steal a bicycle and a boat, and they break into a library, all with virtually no consequences. I'm not okay with that.
3 out of 5 stars
My review of Witch Wars by Sibeal Pounder
When Fran the Fairy shows up at Tiga Whicabim's shed (not house, that's where her mean old guardian, Miss Heks, lives) to tell Tiga she's a witch, the nine-year-old doesn't believe her. Then Fran takes her down the pipes and into fabulous Ritzy City to prepare her for Witch Wars. Nine little witches compete to solve riddles and the winner becomes Top Witch and rules over Ritzy City. But, for Tiga, losing means returning up the pipes and back into the hands of the evil Miss Heks. With her new best friend Peggy at her side, a determined Tiga sets off to solve the riddles, win Witch Wars, and remain in Ritzy City forever.
Such a fun little read. Meant for girls around 8-10 years old, Witch Wars has a wonderful variety of characters. Tiga and her best friend Peggy are definitely the underdogs that you want to root for, but all nine witches have distinct personalities, both good and bad, that make the story flow and keep the reader interested in the story. The illustrations are remarkable and help bring the characters and the setting to life. All-in-all, a fun and quick read.
5 out of 5 stars
Murder is Bad Manners is a murder mystery set in a 1930s boarding school in Britain. Daisy and Hazel have formed a detective club and, up till now, their mysteries have been pretty simple. Then, Hazel finds one of her teachers murdered and, after rushing to get daisy, returns to discover the body has disappeared. Everyone is a suspect.
The story is fun and interesting, and one of the few murder-mystery books I've seen for kids. The two characters are extremely different and both completely believable. The mystery is challenging and doesn't talk down to kids, like some books do. The two characters really have to work and deduce to figure things out. I won't give away the ending (it is a murder-mystery, you know), but I will say it is not one you predict from page one. I would definitely recommend it for anyone, even adults, who loves a good mystery.
5 out of 5 stars
My review of The Witch's Boy by Kelly Barnhill
The story is about two different kids. It begins when the main Character, Ned, and his twin brother build a raft and set off to sea, but the raft sinks and Ned's twin is killed. The villagers decide "the wrong boy" survived and treat him awful. When his mother, a witch and keeper of a very powerful magic, leaves to see the queen, bandits attempt to steal the magic, and it infuses itself onto Ned.
The other main character is Aine, whose father (now bewitched by magic) is the leader of the bandits. She hates what the magic has done to her father. She is independent, strong-willed, and sensible.
The two characters meet and join forces to undo a very old problem.
What I liked: strong characters and a good plot. The two kids are likable and both undergo a transformation throughout the story, making them both better people. There's a great connection between the two of them.
What I didn't like: the beginning is SLOW. The two characters do not even meet until the middle of the book. Although, once they do meet, I did enjoy their relationship. I am also not a fan of the ending. It came out of nowhere. She's gone for a year, then comes back, and he leaves with her without saying good-bye to his dad? It left me disappointed.
3.5 out of 5 stars
My review of Under the Egg by Laura Marx Fitzgerald
When 13-year-old Theodora "Theo" Tenpenny accidently spills rubbing alcohol on her late grandfather's painting, she's surprised to find another painting underneath. Using her knowledge of art and a bit of research, Theo is convinced the painting is a genuine Raphael, which presents her with a dilemma. Her grandfather was a security guard at the Metropolitan Museum of Art, what if the painting was stolen? Determined to find out the truth, Theo and her new friend Bodhi set out on a quest for answers and discover her grandfather had many secrets, including classified missions during World War II.
I love mysteries and Under the Egg is the best kids' mystery I've read in a long time. The girls have to do research to find things out, so the reader learns quite a bit along with them, not just about art and art history, but also about World War II, Monuments Men, and the Holocaust. I love that the kids have to work hard to figure out the clues. The characters, including the adults, are relatable and likable. All-in-all, a great read.
Rating: 5 out of 5 stars
My review of Divergent by Veronica Roth
Okay, I'm sure many of you have already seen the movie, but have you read the book? I saw Divergent in the theaters when it came out in 2014 and liked it, saying that one day I would read the book. And, that day has finally come.
For those of you not familiar with the story, Divergent is a dystopian tale about a society where people are divided into five factions. When it is time for the main character, Beatrice, to choose which faction she belongs with, she is torn between her own family and a different faction. When she chooses to leave her home and everything she knows behind, everyone is shocked, including her new faction. Beatrice changes her name to Tris, with plans to embrace her new life, but a secret, one she has kept hidden from everyone, threatens to destroy her and everything she cares about.
I thoroughly enjoyed the book. It is, of course, much better than the movie because you get inside her head and understand her motivation for everything she does (which in the movie you don't). She is a great, strong female lead, who is both empathetic and formidable. The other characters are also well-rounded, interesting, and very diverse in nature. The action moves quickly and I found myself wishing I could spend longer periods of time reading, so I wouldn't have to wait until the next day to find out what happened next.
Rating: 5 out of 5 stars
A John Grisham series for kids? I had to try it out for myself. This first book in the series introduces the reader to Theodore Boone, the son of two lawyers, who absolutely loves the law. As the biggest murder trial in the history of his small town is underway, Theo wants nothing more than to watch every minute of it. Unfortunately, he has to go to school. But, things get complicated when he is approached by a schoolmate who knows a secret witness, one who could change the outcome of the trial. Now Theo must figure out how to get the witness to come forward before a guilty man is declared innocent.
What I like: great protagonist. I love Theo and his passion for law. I like that the reader also gets some facts about how the law actually works (always good for kids…and adults…to know). The book was a short, fast read, good for kids around 10-11 years old. (Might be a little harder for 8-9 year olds, only because of the legal jargon.)
What I didn't like: parts of the book, especially the beginning, were slow (but not terrible). The only thing I really didn't like about the book was the ending. It was so abrupt. It was kind of like…wait, that's it?
Rating: 4 out of 5 stars
Chasing Vermeer is a middle-grade novel centering around two slightly odd eleven-year-olds, whose intellectual curiosity brings them together to solve a mystery.
What I liked: It's a mystery! I love mysteries, especially when they're about kids out-smarting adults. The book incorporates art into the story, educating the reader on some pretty interesting art history. The cover and the interior drawings are wonderful.
What I didn't like: Although it is a mystery, the two kids don't really use problem-solving or reasoning to solve it. There are way too many coincidences throughout the book, and the finale is pretty disappointing and flat. The two main characters are likable, but it would've been more interesting if they had used their intellect to solve the mystery rather than rely on dreams and coincidences. I would've liked to have seen them discover clues and then put together the pieces to discover the bad guy and find the painting.
All-in-all, it was well-written and beautifully illustrated, but a bit disappointing throughout.
3 out of 5 stars
After suffering an asthma attack that nearly kills him, Arthur Penhaligon is saved by a mysterious man in a wheelchair named Mr. Monday that hands him a key -a key that saves his life, a key that puts him in danger. When an army of dog-faced "Fetchers" show up, Arthur knows he must go to the house, the one that only he can see, and unravel the mystery. But, once inside the house, things become much more complicated, and Mr. Monday wants his key back.
The novel starts off great. Fast-paced and captivating, the story gripped me and I wanted nothing more than to keep reading. Until Arthur got to the house. Then the story became incredibly confusing. Mr. Nix did a great job creating a completely different world inside the house, but it is more like a dark, Alice in Wonderland dream and difficult to follow. Several times, I had to go back and re-read something because I didn't quite understand what Arthur was seeing. I found the story a little too dark and too confusing for my taste.
Rating: 3 out of 5 stars
The name of the book says it all. The Graveyard Book tells the story of Nobody Ownes, aka Bod, an orphaned human boy who ends up being raised in a graveyard by its…residents. As he grows up, the always curious child leads a series of adventures both inside and outside the graveyard, but always threatened by the man Jack, the same who murdered the boy's parents.
This was a truly fun read. The author introduces a wide array of characters from different historical time periods that gives the graveyard distinct personality, and draws the reader in by wanting to know more about the characters. Bod, himself, is a complex kid whose curiosity gets him into interesting, and sometimes stressful, situations. Although the story sometimes turns a little too dark, it always comes back to a safe, kid-friendly story. There was a smattering of artwork throughout the book, although I found it a bit distracting to the story. All-in-all, a good book.
Rating: 4.5 out of 5 stars