Book Giveaway!
On Goodreads? Enter my giveaway for a chance to win a free copy of Problems in Prague! Good luck! (and don't forget to follow me on Goodreads, too)
Bookbub
Are you a fan of Bookbub (the service that notifies you when books go on sale)? As a reader, I use it all the time (literally, every day). But I also have an author page there, and if you "Follow" me, they'll send you a note when I have a book on sale. Super cool, yeah? Just click here and click follow!
May's Book Review
Check out my May review of The Name of This Book is Secret  by Pseudonymous Bosch on my Book Reviews page.

I review a new book every month, so be sure to sign up for my monthly newsletter!
New Book on Sale NOW!
The Decoders book 6, The Miner's Gold, is now available for purchase! Check it out at Amazon (Paperback or Kindle), Barnes and Noble (Paperback or Nook), Kobo, or Google Books, or Walmart.
New Stuff!
I've added some new FREE activities to print for kids! (and adults) click here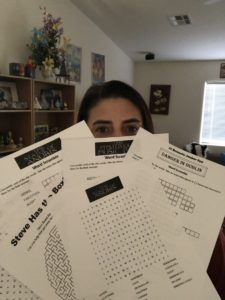 WATCH THE BOOK TRAILER!
Congrats to Problems in Prague, Jeopardy in Geneva, Bedlam in Berlin, and Danger in Dublin for all receiving the Readers' Favorite 5 Star Review!
The Decoders Series
JJ Bennett: Junior Spy Series
Last Stand in London (Summer 2019)