November Review: The Young Elites

Read this month's review of The Young Elites on the Book Reviews page.
Teachers/Parents… need a 15 minute break?
Introduce your kids to the fun and exciting mystery genre!
In this 15 minute video, I introduce the characters of the Decoders Mysteries series and then do a short reading from the first book AND challenge the audience to see if they can solve the clues before the Decoders. So, sit back, relax, and take a 15 minute break while I do the work!
JJ Bennett series now available as box set!
Great news! The first three books in the JJ Bennett Junior Spy series are now available on Amazon Kindle as a set, AND if you have KINDLE UNLIMITED, then you can read all three of them FOR FREE! Woo HOO! Click here or on the image below to get started.
¡En español!
Did you know that some of my books are now available in Spanish? Super cool, ¿verdad? Click here or on the En Español tab to see which ones.
FREE activities for kids!
I've added some FREE activities for kids (or adults) to download and print out (word searches, mazes, etc.). Just click here and have fun! I've even included a (rather difficult) matching challenge. Can YOU match all 51 European capital cities to their countries? Good luck!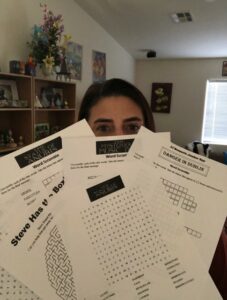 Review: The Young Elites

Read this month's review of The Young Elites on the Book Reviews page.
Monthly Newsletter! (and FREE short story)
Want to be up to date on all my new releases, book signings, and random useless information (like crazy laws)? Yes, yes you do. Sign up for my monthly newsletter! It's fast and easy to do, and…it's only once a month (so you won't get blasted with tons of e-mails).
And, BONUS! You get a fun short story, Sherlock of Timberton, FREE, just for signing up. Huzzah!
Click here to start receiving my ONCE A MONTH newsletter.
GOODREADS GMGR 2020 Challenge
I have accepted the Goodreads GMGR (Great Middle Grade Reads) 2020 A-Z challenge! Read 26 books, each beginning with a letter of the alphabet, by the end of the year. One down, 25 to go!
🙌
ps…I will be reviewing them on the Book Reviews page in case you're interested.
Bookbub
Are you a fan of Bookbub (the service that notifies you when books go on sale)? As a reader, I use it all the time (literally, every day). But I also have an author page there, and if you "Follow" me, they'll send you a note when I have a book on sale. Super cool, yeah? Just click here and click follow!
WATCH THE BOOK TRAILER!
Congrats to Problems in Prague, Jeopardy in Geneva, Bedlam in Berlin, and Danger in Dublin for all receiving the Readers' Favorite 5 Star Review!
The Decoders Series
JJ Bennett: Junior Spy Series
Last Stand in London (2020)