Do you buy stuff on Amazon?
I do. Ridiculously so. Yesterday, I bought two Christmas presents. It's July. JULYYYYYY. *sigh*  I can't help it. I love browsing through Amazon and seeing all the unusual and random things for sale.
Now comes the bigger question…do you look at reviews before you buy? I do. Most assuredly. I like to see what people liked about the product and what they didn't. If it's a product I have purchased before, I don't bother; but, if it's something new, I like to see what I'm getting into.
This includes books. If I'm purchasing from an author I am familiar with, I will probably skip the reviews and just read the description. But, if it's from someone I don't know, I'll read the description first, then look at the reviews.
This is why I choose to write reviews for books that I have read (see Book Reviews page). I wish to pay it forward for other readers. I only write one review per book, then post it on Amazon, Goodreads, Bookbub, and Library Thing, as well as my website.
I would encourage all of you to write reviews for the books you've read. If you're not sure how to write a review, it's easy! Things to include: What did you like most about the book? (Was it a fast read, or were the characters quirky, or did it keep you guessing?) What did you think could've been better? (Were some of the characters flat, or was it too slow at the beginning?) Do you recommend it? Why or why not?
You don't need to write a novel, but reviews that are too short (Great book!) don't really tell the reader anything about the book. Think of what you would like to know if you were debating on purchasing a book, and then share that with the potential readers.
As a reader, I appreciate hearing your opinions of books I may want to buy. As an author, I appreciate the honest feedback from those of you who have read my books.
Happy Reading!
Alba
Goodreads Giveaway!
Click the link to below to enter my Goodreads Giveaway!
July's Book Review
Check out my review of Aru Shah and the End of Time by Roshani Chokshi on my Book Reviews page.
New activities added!
Just in time for summer (or summer school), I've added some new FREE activities for kids (or adults) to download and print out. Just click here and have fun! I've even included a (rather difficult) matching challenge. Can YOU match all 51 European capital cities to their countries? Good luck!
Bookbub
Are you a fan of Bookbub (the service that notifies you when books go on sale)? As a reader, I use it all the time (literally, every day). But I also have an author page there, and if you "Follow" me, they'll send you a note when I have a book on sale. Super cool, yeah? Just click here and click follow!
WATCH THE BOOK TRAILER!
Congrats to Problems in Prague, Jeopardy in Geneva, Bedlam in Berlin, and Danger in Dublin for all receiving the Readers' Favorite 5 Star Review!
The Decoders Series
JJ Bennett: Junior Spy Series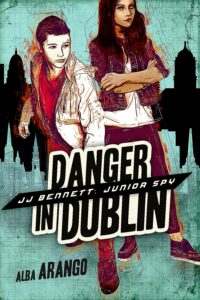 Last Stand in London (Summer 2019)