Howdy all!
Christmas is definitely my favorite time of year! I love decorating the house and driving around looking at all the pretty lights. I have to admit, I like the way my house looks this year. What do you all think?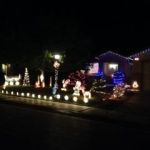 One of my neighbors left me a sticky note on my front door thanking me for making the neighborhood festive. Made my whole day.
Christmas is, of course, a special time of year (birth of Christ being the most important), and as such, people give a lot of gifts to each other. It's really a great tradition in my opinion. If you have run into that ever-so-problematic person on your list, why not consider giving them a book? You can seriously find a book on any possible interest they may have.
If they are kids, might I suggest the Percy Jackson series? It's one of my all-time favorites. I've always been a huge mythology fan, and that series is super fun.
And, while you're at it, you can throw in a couple of my books, too. *wink*
Whatever your plans are for the holidays, I wish you an amazing Christmas. Safe travels and a very Merry Christmas!!