Howdy!
So tomorrow is Halloween/Nevada Day. What is Nevada Day, you ask? Well, Nevada Day, October 31, is the day Nevada was admitted into the United States as a state. Basically, it's our birthday!
And, being true and faithful Nevadans, we celebrate our birthday. All kids get the day off! Woo hoo! Since it falls on a Saturday this year, it will be celebrated the Friday before. Today.
So…Happy Nevada Day!
I hope you all have plans to do something fun this weekend. Be safe and keep you pets inside.
On a different note, last month was the Vegas Valley Book Festival. Here's me at my table…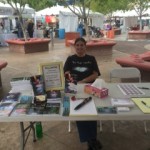 The event turned out to be a lot of fun, and the weather cooperated (thankfully…I was worried there for a bit, as it was raining when I left home to go there).
As far as the writing news goes, the newest book in the Decoders series, The Haunted Statue, now has an official release date: December 19th! And…I've scheduled a book launch to set the whole thing off! Details will be coming out in November, so stay tuned!
Okay…that's all for now. I've got to start celebrating Nevada's birthday (I envision Starbucks will be involved somehow).
Have a safe and fun Halloween!