Hi all!
I just want to give a shout out to all of you who came out to support me at my book launch. Thank you all so much! You guys rock!!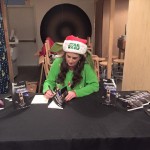 Are you loving my Yoda hat? So cool.
If you missed the book launch, no worries. The books is available on Amazon. Here's the link…
http://www.amazon.com/Haunted-Statue-Decoders-5/dp/0990394379/ref=sr_1_1?s=books&ie=UTF8&qid=1450765355&sr=1-1&keywords=the+decoders+in+the+haunted+statue
It's almost Christmas! Hope you guys are planning on spending some time with family and friends, and….please, eat a lot of food. I refuse to get fat alone.
I also still have to wrap all my presents. I feel like Christmas just kind of snuck up on me. A couple days ago, I was like…Oh yeah, I've got plenty of time. Now, it's in like three days! Where did the time go? Seriously, in another week it'll be 2016! Holy Smokes!
*sigh* Okay. I should probably go get something done.
Until we meet again…
Adios